Broad City: An Ode to Fuck-ups, Friendships and Femininity
On March 28th Broad City aired their final episode, tying a bow around the 5-season Comedy Central hit show. The show invited us into the lives of two women in their mid-twenties, Ilana and Abbi, experiencing what can only be described as a series of shenanigans. It thoughtfully illustrated what's its like to wobble your way through life during the years when you feel trapped in the middle of youth on one side, and adult responsibilities on the other.
At the epicenter of the show is the two women's incredible bond. Broad City's evolution from a YouTube series to a show on Comedy Central, gave us more room to witness their friendship grow. We see the seemingly opposite women: the bold, voyeuristic and political Ilana and the somewhat levelheaded, artsy and clumsy Abbi forge a friendship that is the embodiment of 'for better or for worse'.
What is particularly refreshing about this friendship duo, unlike other TV faves (like Issa and Molly from Insecure) is that both women consistently did not have their shit together. They were reckless, vulgar, sexually liberated and in Ilana's case downright gross. Decisions were made on a whim, and fun was always prioritised. For most of the show, Ilana did not have clear career ambitions and got fired at about every job she had. Abbi worked as a cleaner at Soultice for a whole season despite being qualified to be a trainer all along. It's not that they did not have ambitions, they were just so terrible at working towards them. And sometimes they were just met with sheer bad luck. Kind of like being really excited to perform at your high school talent show, only to forget all the lyrics to the song you practiced as soon as you get on stage.
But in this way they were relatable. The fuck-ups, most times hilarious and other times heartbreaking, displayed a fresh outlook on femininity, one that we have only started to see on TV fairly recently (think Tracey from Chewing Gum or Rebecca from Crazy Ex Girlfriend). More importantly is the fact that the two women were not characterised by these failures and it never stopped us from appreciating the breadth of their personalities. Our continued awareness of their greatness despite the shenanigans should probably serve as a subtle reminder to treat ourselves the same way as we work through our personal failures. Perhaps the lack of success in other facets of their life made it abundantly clear just how successful their friendship was. Where Ilana lacked in focus, Abbi made up for in non-judgmental reality checks and where Abbi lacked in courage, Ilana made up for in brazenness. By the end of the show, it's clear how they have helped each other grow, with Abbi bravely moving states to an Art program and with Ilana going back to school to study Psychology.
Through its brilliant storytelling, the show allows the city it's set in to double as a backdrop as well as a third main character. The city comes alive; displaying the style and vibe that is truly unique to New York, as it informs the characters' style and personality just as much as their daily endeavours in the five seasons. The last season, in particular, saw the pair explore the bits of New York they cherished the most, (S5EP1 for Abbi's birthday and S5E10 for Abbi's last bacon, egg and cheese sandwich) cementing the city's place in their friendship's bloodline.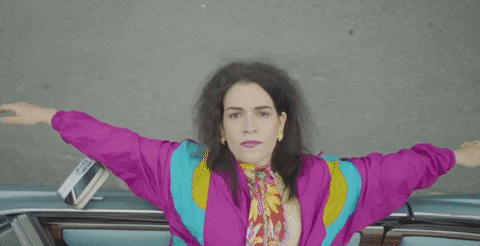 Broad City provided us with great quality comedy for five seasons, centring women and their relationship with one another. The show reminded us that female protagonists on TV did not need to have to have it all. They could be completely directionless and still be funny, smart and totally cool. It also reminded us that friends can be soulmates too; and that sort of relationship could the most fulfilling, life altering relationship of your life.
I for one am grateful for Abbi and Ilana (on the show and in real life) for their hearts and minds, and for reminding me to fall in love with my friends and myself a little harder every day.