I Bet You Didn't Know They Wrote This Song...
The hip-hop universe is full of the multitalented; no one simply does one thing and calls it day. Many singers/rappers try their hand in production and composition but, for today- let's talk about songwriting. Here's a shortlist of musicians you didn't know wrote these bangers and contributed to everyone's playlist by wordy association:
1. Joey Bada$$ - Congratulations (Post Malone)

It comes as no surprise that this lyrical genius is writing for others. Joey tweeted at the beginning of the year with the good news of "quietly" grabbing his first number 1 through writing credits. When the song leaked in 2017, it originally featured Joey Bada$$ and T-Pain. It was only when the official single was released from Post Malone's debut album- Stoney, that the two rappers were taken off and replaced with a verse from Quavo.
2. SZA- Feelin' Myself (Nicki Minaj)

This came as a bit of a surprise. We all know SZA, aka Solana Rowe, has the songwriting prowess from relatable tracks like Garden (Say It Like Dat) and The Weekend- but the Nicki-Beyoncé collab seems to exude a different kind of sound than what we're not used to hearing from SZA. I wrote "a nice chunk of that", she jokingly states in an interview with Sway.
3. Swae Lee- Formation (Beyoncé)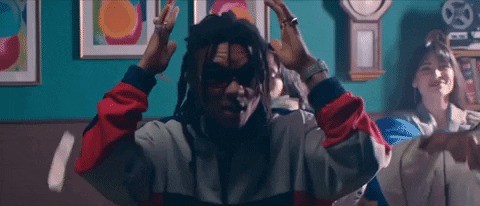 Okay, this one might be a bit of a stretch, but we're going to run with it anyway. There have been many interviews and articles surrounding how Swae Lee of Rae Sremmurd contributed to writing the first single from the critically acclaimed, Lemonade and I am here to shed some light. Swae gave Bey arguably the most iconic line in the song: "okay ladies, now let's get in formation". After hearing this, she took to the studio and wrote a whole song from just that line. And people thought Rae Sremmurd were one-hit wonders...
4. Drake- 30 Hours (Kanye West)
Funnily enough, this is the feature that shocked me the most. From TLOP, this track sounded the most true to Kanye's older sounds. From the sample to the lyrics, the vibe was reminiscent of the Late Registration/Graduation era and so I thought it all came from Yé. With that being said, Drake is as much of a fan as I am. He has stated this on multiple occasions- whilst working with him on Forever and even using his instrumentals in his early mixtapes.
5. Ty Dolla $ign- Loyal (Chris Brown)
If anyone has been deep in the bag for a while now, it's this guy and this is a prime example as to why. As if jumping on every other song as a feature wasn't enough this Summer, Ty Dolla has been ghostwriting for your favourite artists for years. As well as co-writing Loyal, his vocals can be heard on the backing of the track alongside Seyvn Streeter.
A special mention to Tory Lanez who claims to have written for everyone in the game. Even though there is no way of corroborating your claims, we believe you wholeheartedly. Keep up the good work.